I hope you're all feeling well and happy today; hey it's the weekend!
Usual thing first. Up early again at 05:30 and feeling happy. Had a great night last night at friends and had a couple of drinks and dinner. Thanks guys! Today we are all going mountain biking on one of our local trails, the Marin in
Betws
y Coed. So that should be fun (and very wet!). I'll look forward to picking my daughter up for her stay over later on :)
So, that kinda links me to what I wanted to talk about today.
My love of cycling. It's definitely one of the things over the years that has kept me sane. I developed an interest in it when I was around 13 I think, so from around 1989. I remember drooling over the beautiful lilac colour of the
Raleigh Mir
age (in between serious bouts of Ghouls and Ghosts on my Spectrum 256!) but I ended up with a black Townsend I can't remember the name of, which was stolen from school around 3 weeks later. Thieving buggers!
Hmm, after seeing this again, I think I'll download a Spectrum emulator for my PC and play it again!
Oddly, I have no idea after that when I ever had another bike, I had a Grifter before the Townsend; I'm sure a lot of you reading this may have fond memories of owning one. They were awesome, besides being made from scaffold poles and weighing the size of a small planet. I loved those sturdy, thick tyres (no Google, that is how we spell 'tyres' in the UK, stop trying to correct me :P ) and that wonderful, diamond patterned saddle. If you hit someone on it you'd undoubtedly kill them.
It wasn't until I was in the Army that I got into it more. I first properly cycled off-road on a GT Timberline and I remember wearing disgusting, blue, green and purple lycra tights; hey, it was OK back then! I got really into it and raced locally.
After I left in 1996, the first thing I wanted to do was buy a GT! And I did, I couldn't afford the Zaskar so I got the Avalanche in burnished alloy; it was lovely.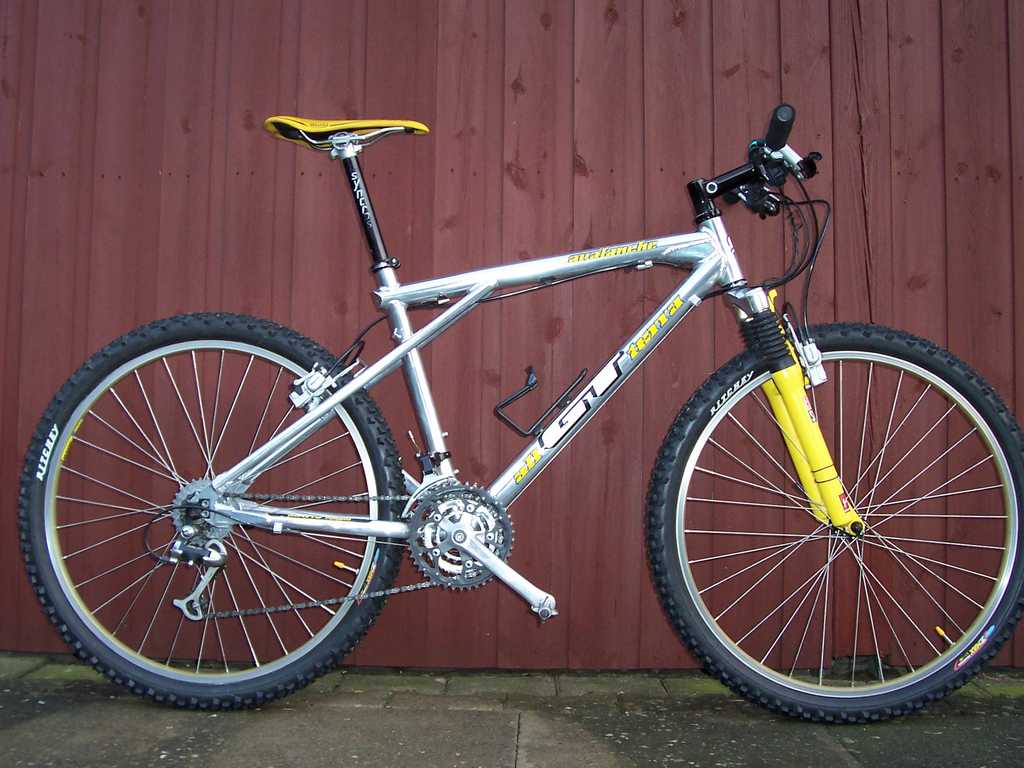 This wasn't mine, as I had the rigid version and as spec, so full Shimano XT for £899. I had to buy it on finance and unfortunately, it was stolen a few months later :(
After that I had a 1996 Kona Lava Dome and this was without doubt my favourite bike and the one I'd spent the most money on improving. I absolutely loved it; the riding position, the feel of it, the beautiful burnt orange colour with light blue graphics. I polished and cleaned it so much. It was always pristine and mountain bike friends always said that when ever they had a go on my bike, it felt set up so perfectly; that's because it was, I looked after it!
Over time I could afford to improve it, starting with suspension (Rock Shox Indy SIDs; stupidly light and plush) and after those I plugged in some Marzocchi DH3s with 3 inches of travel. This was seriously cutting edge back then as these forks were used on the downhill racing scene. They were way too sticky for me though, so I changed the oil and springs so they worked with a lighter, plusher action. These forks were seriously the thing to have:
But tough times financially (because of spending all my cash on bike stuff!) meant I had to sell her; she went to a good home for £450, I think in late 1997. We had some great times, because back then I did race and was good at it too, often winning by a good margin, riding for 'Team Nipple'! - we were quite famous in the NAMBS (Northern Area Mountain Bike Series) races, with our bright salmon pink jerseys and our slogan "GIVE IT SOME PASTY!!" as we even got the spectators shouting it. I wish I had some pics as those were really great times. Ironically, the first MTB race I did was here in North Wales, just outside Mold. Who would have thought that one day I'd live here...?
Gradually, I became interested in road cycling (even after jeers from my MTB friends) and despite buying another Kona Lava Dome, the 1997 version (which I still have and desperately want to build up again). This one is mine:
I bought an old 531 road bike around the same time that was too big for me off a friend. Took me ages to get used to it; narrow bars, skinny tyres, down-tube shifters. I had it for ages and really got into it. I still cycled off-road a lot but this gradually waned.
My interest in road cycling was really peaking and I started looking to buy my first new road bike in 2003 (the year of one of the best Tours de France, ever!) and I ended up buying an Orbea Team Euskaltel Replica 3 at £899. I always loved Iban Mayo's bike and wanted one! I still have her and we have had many adventures together; I'll post a pic at the end of the post.
I spent money on other bikes too as I eventually fell into the philosophy that a road cyclist should always have n + 1 bikes (where the 'n' = number) and I bought winter trainers; a lovely black Ribble - often the weapon of choice for UK winter riders.
It was around this time that I got into fixed gear (no freewheel, so you cannot stop pedaling) and naturally, I was attracted to Kona again. I wanted a work-horse commuter that could take the knocks and was low maintenance, so in 2007 I plumped for the Kona Paddy Wagon. And Wow! What a bike. And a stunner. She's had a rather shiny, matching blue Middleburn chain ring since this pic:
It just felt amazing to ride (and still does!) and the connection you had with the bike, being fixed gear was wonderful. Riding fixed turns you into a very skilled cyclist, because you also have to think quite far in advance of when you need to slow down, by back-pedaling and how to lock up the rear wheel by unweighting the back a little by locking your legs; it took a while to learn this skill. I also got pretty awesome at track stands. This means that you can stop in one place, keep both feet off the ground and balance the bike; I loved showing off my skills at traffic lights and wondering if the drivers behind were amazed at how still I could keep my bike and just pedal off when the lights went green!
Haha, I loved those commutes; riding through and about traffic is such a buzz, but not without its risks. I had a few accidents, including riding straight into the back of a van that braked suddenly as I was about to pull out to get past him. It really hurt and I thought I'd broken my arm but I hadn't. Poor bike, she still bears the scars...
I was always cycling and I got really fit. I dabbled with time trialling a bit here in Wales, but I lost the motivation and it just wasn't good for my back. Shame really, as the first year I started I was turning in some pretty fast times, often being in the top 10 or even 5. But after getting slower after building a proper TT machine, I gave it up and my back was getting screwed.
So now, I ride just for fun. I don't race or ride really fast; I can't be bothered. It is a release from my depression as I often ride alone, with my own space to breath and think. I've ridden all over North Wales now and even rode to Cardiff in one day with a few friends; that was great - 180 miles, most of it in pissing rain!
Back injury though has often prevented me cycling, a lot. And this really upsets me, as I love cycling. I gain my fitness back and pop! the back spasms again and I'm off the bike for weeks. But it's not too bad at the moment, so I manage small rides with my wife at a nice, gentle pace. Just enjoying that feeling of my wheels rolling and the sensation of speed; there's nothing like it.
I've been very lucky too, to be able to go to France and watch stages of the Tour de France; two years in a row now in fact and we are going again this year, as one of the stages starts in my home city of York! Can't wait!
I've also been privileged to cycle up two of the Tour's iconic climbs; Alpe D'Huez and Mont Ventoux, last year. Both hard as nails but absolutely amazing climbs.
So this is why I ride. Enjoyment. Freedom. But most importantly, the release it gives me from my illness. There is no better medicine, which I why I get so down when my back spasms and can't ride.
Well, here's a pic of my wife and I on our most recent ride to Beaumaris on Anglesey and back. It was lovely and after stopping in Beau's for a brew and some cake, we cycled back home to Bethesda (25 mile round trip). You can see how happy it makes me.
Thanks for reading guys and take care.